Capi - Ball Planter Groove 35x34 - Grey Striped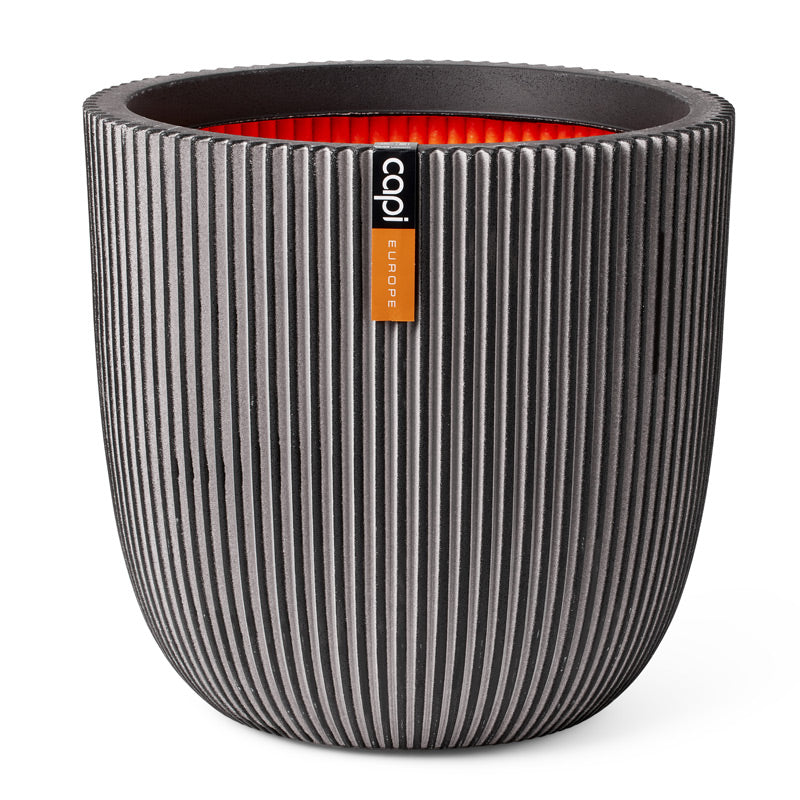 The Ball Planter Groove is designed and made with recycled materials, climate-neutral produced and is suitable for indoor and outdoor use. The orange insides of the planter provide insulation. The Capi Europe Planter with its soft and healthy colour is the perfect base for your hydria. 
The beautiful grey colour is retained by using the highest quality dyes, so feel free to let your planter shine in full sunlight.

Features and Benefits
Insulation Layer - During the hot summers, the insulating effect makes a comfortable temperature in the planter, while in winter, it protects against the cold and even against frost whilst it ensures the water to remain longer.
Versatile - The Capi Europe planter can be used in the garden, on your terrace, or on your balcony, but just easily indoors as an accessory or design object. 
Easy to Use - The Hydria Water Feature Kit fits perfectly into this Easy-Fit Planter without the need for planting medium

Specifications
Colour: Grey
CO2 Neutral 
Indoor & Outdoor Use
Insulating Layer 
UV-resistant 
Lightweight 
100% Recycable 
Overall Dimensions: H:34 cm x W:35 cm x D:35 cm 
Weight: 1.31 
Guarantee: 10 year warranty
if you wish to use these pots outdoors, you will need to drill drainage holes yourself. We recommend drilling at least three 10mm holes for optimal water flow.
*hydria fountain kit not included - sold separately